The Firm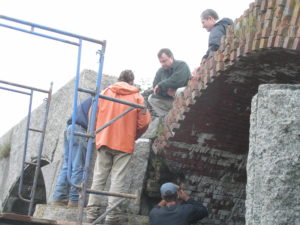 Resurgence Engineering & Preservation was established in 2002 by Alfred Hodson to provide structural engineering services targeting the preservation of Maine's historic structures. In the summer of 2017, John Turk joined Resurgence Engineering to offer architecture and preservation services. Over the years, Al and John have collaborated on preserving many of Maine's most significant historic properties including restorations of Portland City Hall, Fort Popham, Fort Gorges, Victoria Mansion, Spurwink Church and the Safford House. Resurgence offers comprehensive architectural and engineering services including conditions assessments, historic tax credit consultation, National Register nominations, HABS/HAER recordation and Historic Structure reports.
Alfred H. Hodson III, P.E.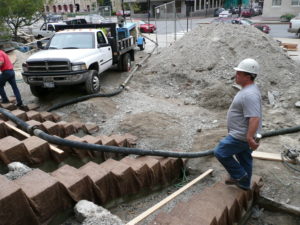 A Maine native, born and raised in Sanford, I currently live in Portland. My parents taught me to appreciate nature, farming, cooking, and history.  When my sisters and I were not feeding the farm animals, loading wood, or picking produce, we spent many free-range days outdoors on our family's 14-acre farm west of town.
I obtained my Bachelor of Science in Civil Engineering, with a structures emphasis, from Duke University. During my many trips up and down the I-95 corridor I developed an appreciation for the civic, industrial, and vernacular architecture in many east-coast cities.  Seemingly everywhere, mills, churches, houses, and municipal structures suffered from neglect and from urban renewal. Following graduation, I worked as an engineer in training in Boston for six years on a wide range of existing buildings and structures.
In 1994, my wife Catherine and I moved to Charlottesville, where I received a Master of Engineering Degree in Structures and a Certificate in Historic Preservation from the University of Virginia.  My Master of Engineering project described the cultural importance and engineering significance of the Goshen Bridge in rural Rockbridge County, and I researched engineering options for its rehabilitation. The Virginia Department of Transportation rehabilitated the structure in 2002.
We returned to Maine in 1996 and have lived in Portland ever since.
Professionally, I enjoy the challenges of stabilizing existing buildings and structures that are in significant distress, particularly when they are important assets to the cohesive history of a city, village, or landscape. I founded Resurgence Engineering and Preservation in 2002.  Here, I prefer to work with a lighter hand when allowed by physics and codes, using original materials wherever possible with minimal intervention.
I spend my free time outdoors whenever possible, fishing, hiking, foraging, and hunting around the city and the state that I love.
John Turk, AIA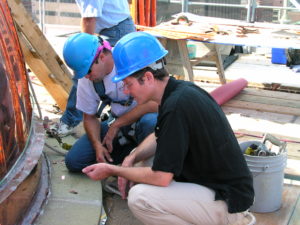 I was born in Gulfport, Mississippi and as a son of an officer in the US Air Force experienced the culture of various regions including Hawaii, Ohio, Virginia, Colorado, Pennsylvania and Washington State. This early immersion instilled in me a distinct sense of the uniqueness of place. After graduating from college a group of friends and I traveled to Maine where I was struck by the connection Mainers have with the land, the sea and the elements. I found a good job and subsequently home.
As a designer, my goal was to establish a practice where my projects would be informed by a shared cultural heritage and by a unique sense of what could be. Our preservation projects have exposed me to the inherent aesthetic and intelligent craftsmanship of local traditional building methods. Structures have a story to tell in terms of proportion, response to the elements and human need and understanding of what lasts and why it's good. I've seen the individual hand of stone masons on blocks of granite at Portland City Hall, timber framing of the attic and belvedere at Liberty Hall that employs boat making techniques, and the transformation of water and wind power into the workings of numerous grist mills. I've learned to have respect for the skill, knowledge and effort that stands as witness to the success of these collective efforts and strive to employ this understanding to our new construction projects. I also know new design benefits from this understanding.
I received a Bachelor of Architecture from Pennsylvania State University and I studied architecture for a year at the University of Florence in Italy. My love of design and of Portland have led me to various public service commitments including many years on the boards of Architalx, Portland Society of Architects and the Portland Historic Preservation Commission. My work has been recognized by the Maine Chapter of the American Institute of Architects, the National Trust for Historic Preservation and Greater Portland Landmarks.